Play NBA CLASH: Sync PVP Basketball on PC with NoxPlayer
Details
Last Update :  2022-09-22
Current Version :  0.13.2
*** Preregister today and get a free Epic card featuring LaMelo Ball plus 100 coins at launch! ***

Introducing NBA Clash, the fastpaced headtohead game that will have you hooked on basketball like never before! School your opponents with quick drives to the basket, longrange 3pointers, and explosive dunks. As you climb the leaderboards, unlock new NBA Stars to add to your ideal team. Set your lineup and execute the best strategy to dominate the competition and become the ultimate NBA Clash champion!

DROPPING DIMES AND MAKING BUCKETS

Outthink and outplay your opponent by utilizing NBA Clash's vast library of Action Zones. Fly by the defense and break some ankles with Jaylen Brown's Get Open Shot Action Zone and you'll make it rain threes all day! Upgrade your player skills with everything from killer pump fakes and fadeaways to clutch shots and rim wreckers! Only the strong survive here.

Activate critical abilities including:
• Giannis Antetokounmpo Rim Wrecker: 100% chance that Dunks and Blocks exhaust the nearest opponent
• Stephen Curry Daze Action: Instantly daze all opponents when you use any Action Zone
• Luka Doncic Minus 1 Teamwork: Scores from anywhere by any teammate lower your opponent's score by 1
• Nikola Jokic Random Legendary: Instantly activate a random Legendary Special Ability
• Kevin Durant Dagger Score: Score from anywhere to exhaust the entire opposing team
• Joel Embiid Stagger Area: Stun all opponents near this player for 3 seconds
• Ja Morant Team Posterizer: Give 100% chance of exhausting an opponent on dunk to your entire team
• Damian Lillard Minus 1 Scorer: Scores from anywhere by this player lower opponent's score by 1
• James Harden And 1: Scores from anywhere by this player get 1 extra point

BUILD A TEAM OF STARS

The more you play, the more NBA Stars you unlock. Dominate the hardwood in fastpaced, 3on3 action! Master your favorite player's Action Zones to create killer crossovers and unstoppable dunks. Then take your team online to show everyone who's boss. With infinite ways to mix and match your lineup you can create the ultimate squad and take home the championship!

FEEL LIKE YOU'RE ON THE COURT

NBA Clash is an arcadestyle basketball experience that puts you in the heart of the action, with players and moves you know and love. Whether it's 1on1 against a friend or a challenging rival, all of the gametime excitement is here right at your fingertips!

CONQUER THE LEADERBOARD

With all 30 teams to choose from, you can pick your favorite NBA squad and show the world what you're made of. Then, take on players from all over the globe in exciting online matchups. Prove that you're the best by climbing to the top of the leaderboard.

A GAME FOR REAL BALL FANS

Go headtohead against other players from around the world in fastpaced, tactical battles. Featuring sensational NBA teams and players, NBA Clash is the ultimate test of your basketball knowledge and skills.

REP YOUR FAVORITE TEAM

Pick from any team in the league:
• Atlanta Hawks
• Boston Celtics
• Brooklyn Nets
• Charlotte Hornets
• Chicago Bulls
• Cleveland Cavaliers
• Dallas Mavericks
• Denver Nuggets
• Detroit Pistons
• Golden State Warriors
• Houston Rockets
• Indiana Pacers
• LA Clippers
• Los Angeles Lakers
• Memphis Grizzlies
• Miami Heat
• Milwaukee Bucks
• Minnesota Timberwolves
• New Orleans Pelicans
• New York Knicks
• Oklahoma City Thunder
• Orlando Magic
• Philadelphia 76ers
• Phoenix Suns
• Portland Trail Blazers
• Sacramento Kings
• San Antonio Spurs
• Toronto Raptors
• Utah Jazz
• Washington Wizards

So what are you waiting for? Get in the game and show everyone who's the real King of the Court!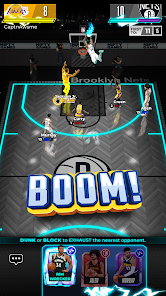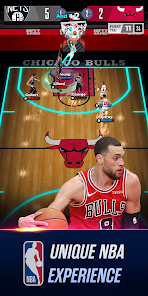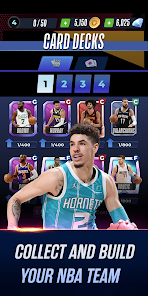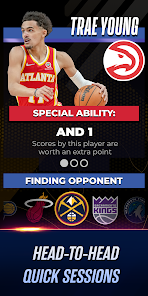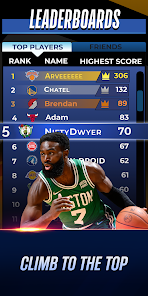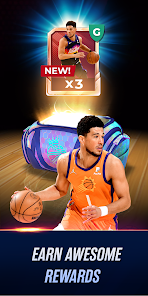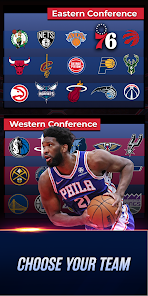 NoxPlayer Delivers The Best Gaming Experience For You
How to play NBA CLASH: Sync PVP Basketball on PC using NoxPlayer
1Download NoxPlayer on your PC.

2Run the installation package and complete the installation.

3Search for NBA CLASH: Sync PVP Basketball on NoxPlayer.

4Install the game in Google Play.

5Click the game icon to start it.

6Play NBA CLASH: Sync PVP Basketball with NoxPlayer on PC easier!
Simple Method
Method 1. Click "Download on PC" to download NoxPlayer and apk file at the same time. Once installation completes, play the game on PC.
Method 2. If you already have NoxPlayer on PC, click "Download APK", then drag and drop the file to the emulator to install.
The Wonderful Video of NBA CLASH: Sync PVP Basketball
Do you wanna run NBA Clash with a better gaming experience? With the benefit of the bigger screen, smarter keyboard and the higher hardware performance, NoxPlayer brings you an extreme gaming experience on PC. By downloading and playing NBA Clash on PC via NoxPlayer, users don't need to worry about the battery or the interruption of calling.
NoxPlayer is compatible with Android 7 and supports running over 90% of the mobile games on PC, which will boost your gaming experience perfectly. In addition, by opening multiple instances, Noxplayer supports to running multiple games or apps at the same time, or chatting with your friend while playing game.
NoxPlayer is perfectly compatible with AMD and Intel with the exclusive core virtualization technology, making your computer run more stable and smoothly. Download NoxPlayer and experience it now!
Please download with PC browser
NoxPlayer is designed for Windows and MAC OS, please visit this website via computer browser to download NoxPlayer.